Welcome to warbird.com.au. This site will contain pages devoted to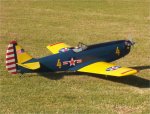 showcasing model warbirds of all sizes and eras from modellers from anywhere in the world. Visitors are invited to send images of their pride and joy to this site for inclusion in the photo galleries. Don't forget to attach a text file containing details of the model (span, weight, power etc) and owner (name, location, club). Pics should be good quality 700 pixel width colour or black and white digital images.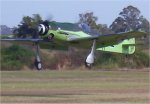 This site is also available as a virtual meeting place for members of the Southern Cross Air Force, as well as members of the World Miniature Warbird Association based in the US. The SCAF currently consists of model warbird builders and pilots from clubs located in the south east Queensland region and who get together regularly at venues around the same geographic area to demonstrate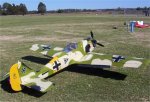 their aircraft to other modellers and to members of the public. Warbird owners and pilots from other regions around Australia are welcome to make contact with the SCAF with a view to forming a squadron in their region. Contact details will be posted soon.
Keep in touch with friends download ICQ8
This site is new and is still under construction Please check back regularly.